GROWL Center Special Interest Workshop Series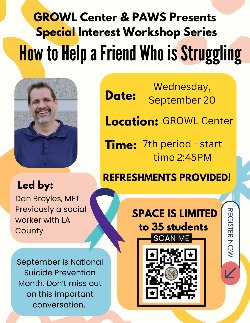 What

GROWL Center Special Interest Workshop Series

When

9/20/2023, 2:45 PM

–

3:45 PM

Where

Special Guest- Dan Broyles. In the GROWL Center
This year the GROWL Center and PAWS have joined forces to offer monthly special interest workshops. We will be having community experts come to speak to our students about various topics that are centered around wellness and truly have an intention to help support our students where we see there is a need.
This month we have an amazing community member who will provide guidance on how to talk to a friend who may be struggling. September is National Suicide Awareness Month and we want to provide this opportunity to our students because we all have been in situations where we don't know how to help a friend.
Please help spread the word by posting this flyer and consider linking this opportunity to a lesson in the class. We do have limited seating space so we have capped it to 35. Since it's during 7th period, we understand that it will take a committed student to make arrangements.
Copy to Google Calendar
•
Download iCal Event