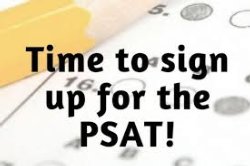 What

PSAT Registration Window is Open (11th Graders ONLY)

When

9/17/2021

Where

The PSAT registration window is open for the October 16th exam. Purchase these at the ASB office or off of the ASB webstore website.
The PSAT will be held on Saturday, October 16th at 7:30 am. This year the PSAT will only be available to juniors. Registration will begin this Tuesday, September 7th and run through Friday, October 8th. Tickets can be purchased in the ASB office for $20 or through the ASB webstore. Take advantage of an inexpensive and comprehensive assessment that provides students with the best practice for the SAT. The PSAT is also a qualifier for the National Merit Scholarship Program. See Ms. Ortiz if you have any questions or to inquire about a waiver.