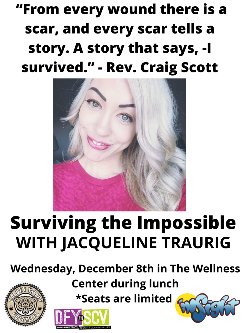 What

DFY in SCV Presents : Surviving the Impossible

When

12/8/2021, 12:30 PM

–

12:55 PM

Where

Guest Speaker: Jacqueline Traurig
Seats are limited. Jacqueline's father, Tim Traurig, started A Light of Hope in Santa Clarita, which is an outpatient rehabilitation center for teens struggling with addiction. Jackie struggled with addiction, got pregnant at an early age, and was in many violent relationships. She is clean and a single working mother. She serves as the light of hope these kids are desperately seeking in their lives.