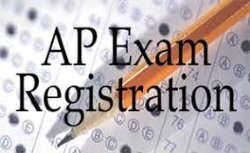 What

AP Exam Registration Window Closes TODAY

When

11/2/2020, 3:00 PM

Where

Click here for more information and to register. (Closes November 2nd.)
Welcome to the Golden Valley Advanced Placement website!
AP Exam Sales 2021
Purchase AP Exams online at:
www.TotalRegistration.net/AP/053871
Registration for AP exams will begin October 6th- November 2nd at 3 pm.
AP exams can only be purchased online through total registration.
Each AP Exam will cost $104 (unless otherwise noted)
If you need help with the online registration, email Mrs. Thomas.
If you are taking two tests at the same time, email Mrs. Thomas before 10/23/20 to discuss alternate testing.
If you believe you qualify to pay a reduced fee, complete your registration by 10/16/20
You must ALSO register on College Board and select Order exam.
**We STRONGLY advise you NOT to wait until the last minute to buy your exams. Technical difficulties or other issues will not be excused. Please plan to purchase your tests as soon as possible to give yourself ample time to work through any difficulties.
**There is some good news regarding cancelling an exam. You may choose to cancel your exam at any time before the exam administration and will be given a refund (minus $4 per exam).
**If you registered for AP exams last year, you will use the SAME email address this year. All your info is saved. At the bottom of the main page, it says "Have you previously registered? Login Here"
**If you are in need of additional financial assistance, please contact Mrs. Thomas to learn about this year's AP Scholarship program.
* You can qualify to pay a reduced fee ($25 per exam) if you participate in the free/reduced lunch program. If you would like to qualify for the reduced fee, select "YES" on the question asking if you are in the free and reduced lunch program when you register online. This will send your registration to Hart's district for verification. You will receive an email once the verification process is complete. Because this extra step will take time, you should complete your registration immediately, but no later than October 16th.