GVHS Presents the 2023 CSF/CJSF South Central Regional Conference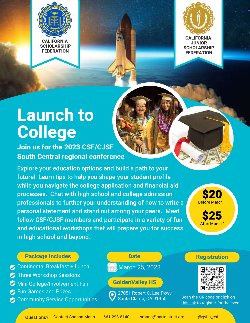 What

GVHS Presents the 2023 CSF/CJSF South Central Regional Conference

When

3/4/2023

Where

The event is on Saturday, March 25, 2023 @ Golden Valley HS. Early registration $20. After March 22nd $25
Join us for the 2023 CSF/CJSF
South Central regional conference
Package Includes:
Continental Breakfast + Lunch
Date
March 25, 2023
CALIFORNIA
SCHOLARSHIP
FEDERATION
27051 Robert C. Lee Pkwy
Santa Clarita, CA 91350
CALIFORNIA
JUNIOR
SCHOLARSHIP
FEDERATION
Explore your education options and build a path to your
future! Learn tips to help you shape your student profile
while you navigate the college application and financial aid
processes. Chat with high school and college admission
professionals to further your understanding of how to write a
personal statement and stand out among your peers. Meet
fellow CSF/CJSF members and participate in a variety of fun
and educational workshops that will prepare you for success
in high school and beyond.
Copy to Google Calendar
•
Download iCal Event