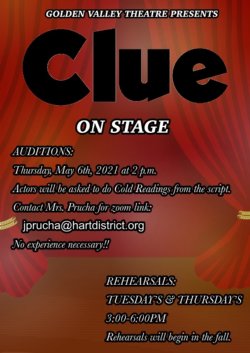 What

GV Theatre Department Auditions for "Clue"

When

5/6/2021, 2:00 PM

–

5:00 PM

Where

Actors will be asked to read a cold script. Contact Mrs. Prucha at jprucha@hartdistrict.org for the zoom link. No experience necessary.
Rehearsals are Tuesdays and Thursdays from 3 pm to 6 pm. Rehearsals begin in the Fall.