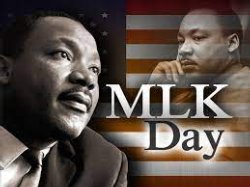 What

Martin Luther King Jr. Day

When

1/17/2022

Where

Holiday-No School
Legislation was signed in 1983 creating a federal holiday marking the birthday of Rev. Dr. Martin Luther King, Jr. This federal holiday was first observed in 1986.
In 1994, Congress passed the King Holiday and Service Act, designating the Martin Luther King Jr. Federal Holiday as a national day of service and charged the Corporation for National and Community Service with leading this effort. Taking place each year on the third Monday in January, the MLK Day of Service is the only federal holiday observed as a national day of service – a "day on, not a day off." The MLK Day of Service is a part of United We Serve, the President's national call to service initiative. It calls for Americans from all walks of life to work together to provide solutions to our most pressing national problems. The MLK Day of Service empowers individuals, strengthens communities, bridges barriers, creates solutions to social problems, and moves us closer to Dr. King's vision of a "Beloved Community."
Participation in the MLK Day of Service has grown steadily over the past decade, with hundreds of thousands of Americans each year engaging in projects such as tutoring and mentoring children, painting schools and senior centers, delivering meals, building homes, and reflecting on Dr. King's life and teachings. Many of the projects started on King Day continue to engage volunteers beyond the holiday and impact the community year-round.
Although the scope of the event grows every year, many people are still not aware of the service component of the holiday. Many American Democracy Project colleges and universities organize and sponsor MLK Day educational and volunteer activities.
Below are links to resources that may be useful to you as you plan MLK Day events and activities.
(Source: Corporation for National and Community Service, MLK Day of Service website)
National Organizations That Support MLK Day Activities