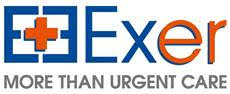 What

GV Physical Sign Ups

When

6/12/2019

Where

An additional physical opportunity is Wednesday at EXER at 14550 Soledad Canyon Rd Ste. 100. Canyon Country. 91387
We hope you will join us for our school's Sports Physical Examination Day!
When: Wednesday, June 11th (3 pm - 8 pm)
Where: EXER Canyon Country, 14550 Soledad Canyon Rd. # 100
Our Purpose: EXER More than Urgent Care created EXER Sports & Schools to help make athletics a reality for more students in the communities they serve. As part of EXER sports & Schools and as experts in emergency medicine, EXER More Than Urgent Care will cover the cost of our high school athlete's sports physicals on the dates above. We hope you will join us at EXER More than Urgent Care for Golden Valley High Sports Physical Day.
Parent or Guardian must be present
Please click on the links below to secure your day and time!

Golden Valley Sports Physicals
As a fundraiser for our Athletic Department, we suggest donating $20 for this physical.
100% of the funds collected will be going back to our athletic department.
Thank you to EXER for providing this wonderful fundraising opportunity.